Yikes – one more week to go!!! This week has been decent food wise, no carbs at night. Started adding fresh squeezed lemon juice in warm water to kick start my body each morning, and have kept my food clean. Still alcohol free – 23 days now – whoot!
Workouts this week –
Sunday 2.5 mile walk/run with Chula and 45 min Kayak ride
Monday 2.0 mile walk with Chula
Tuesday spinning / short walk and catch with Chula and yoga
Wednesday 2.5 mile walk with Chula – Intro to Kayaking for Miss Chula – she did fabulous
Thursday 2.5 mile walk / run with Chula – Longer Intro to Kayaking for Miss Chula – gold star!
Friday spinning and 2 mile walk with Chula!
I weighed in Friday before spinning since I was leaving Friday to go camping with my sister – down another inch and 1.5 lbs – yeah me!!
So as I mentioned I went camping over the weekend with my sister. Food-wise I held my own 😉 I haven't camped in ummmm years – so much fun!!! We had a site right on the river and Chula loved playing in the river with her friend Chewy.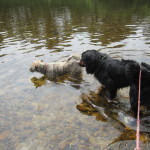 We also went on a 5 mile canoe trip – now that was a workout, sat by the fire and walked – I didn't think I enjoyed camping but I guess I do…..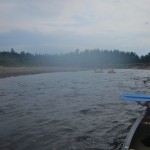 Oh and I almost forgot! We had a site chicken who would let you hold it a pat it – My sister named it Joyce 😉 She was going to take it home but we had no room in the truck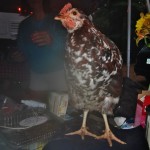 Next week – will keep food and workouts consistent. Slow and steady wins the race people!