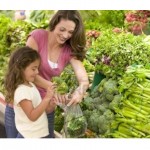 Once you master your water intake it's time to move onto food.
Planning your meals can actually alleviate a lot of stress in your life. Why? Because now you don't have to worry about what you're going to make for breakfast, lunch or more importantly dinner. I don't know about you, but I find that extremely painful.
So here is what I do and trust me, it works!
Each Saturday I think about my meals for the following week – for example, Monday may look like this-
Breakfast: Egg whites, ½ EZ English Muffin, Coffee and 1 Orange
AM Snack: green smoothie
Lunch: shrimp, salad and pita bread
PM Snack: 1 med apple and 1 oz of almonds
Dinner: Chicken tenders, brown rice and green beans
My shopping list may look like this:
1 large carton of egg whites
1% milk
Coffee
Bag of frozen shrimp
pack of pita bread
apples
lettuce
tomato
cucumber
broccoli
celery
cabbage
carrots
frozen spinach
frozen blueberries and cherries
frozen green beans
organic chicken breasts
brown rice
green beans
The great news ….. I don't have to think about my meals again for the entire week because I now have everything I need on hand to make all those meals….. WIN – WIN.