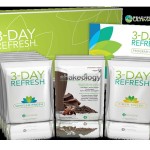 Soooo – my sister Jennifer McLatchy – one of the newest Boston Team Beachbody Coaches is doing the 3 day refresh Beachbody challenge, and I decided to do it with her starting this Monday. I am hoping this will finally help me break 140 and my ice cream addiction. I will post before and after pictures – and share my experience with you…. I will update this post on Sunday – Wednesday night and post the before and after picture first thing on Thursday Morning. Sunday is the most important day because that is our prep / shopping day.
Sunday – Prep day – Ok so here we are reviewing our program and deciding which veggie / fruit / dinner we will have on all three days. The list has been put together, food bought – all set to start first thing tomorrow. Below are my starting stats:
Weight – 144
Chest – 33
Mid Waist – 27
Low Waist – 31
Hips – 37
Thighs – 22
Calves – 15
Bicep – 11.5
Monday Day 1 – 3 mile walk with dogs 10 full and 10 modified pushups and ab workout. Breakfast – 8 oz of water with Lemon, 1 cup of coffee with stevia, Shake, 1 cup diced cantaloupe – feeling full. Fiber drink around 11 and vanilla shake around 1. Didn't eat again until 5 – oy. Brought mom to an interview after getting new tires put on – starving! Dinner was 2 cups salad with two tsp sliced almonds, 2 tbsp of Avocado and 1/2 chopped apple with apple cider vinegar and vanilla shake. Very filling 🙂
Tuesday Day 2 – Woke up with a bit of a headache – sure it's from the sugar detox – oy, otherwise feeling ok. 3 mile walk with dog, 10 full pushups, 10 modified and ab workout. 8 oz of water with lemon, choc shake with 2/3 cups blue berries. Lunch made… Vanilla shakes with a side of 2 cups of salad w/half apple a 2 tbsp. of avocado and apple cider vinegar. PM snack – 5 spears of asparagus with coconut oil. Dinner carrot salad and Vanilla shake – whoot!
Wednesday Day 3 – OMG – so freaking cranky last night – Thank goodness – this is over today….Feeling a little bloated – trying to get more water in to help my "systems" run smoothly. First thing lemon and water, Chocolate and blueberry shake for breakfast, fiber drink at 10:30 ish, 1:30 ish Vanilla shake and two cups of lettuce with apple, coconut oil and vinegar – Dinner tonight will be the last shake and tomato and cucumber salad! Wooo freaking whoooo!!!! I must love my sister – a lot! Oh and did get my 3 mile walk in with the dogs – will do abs and pushups tonight before bed…
Thursday – Ok – so down 2 lbs. and 1 inch in my waist in just 3 days. For someone my size who eats fairly healthy this is good. I won't lie, last night NO ONE wanted to be around me – I was a complete bear – just had to go to bed early and be done. Honestly, I was never hungry – if I could have used the chocolate shakeology instead of the Vanilla, it would have been much easier. They call it a 3 day refresh, but for me it was like a reset to cleanse my body and mind of junk. This stuff is definitely more of a head game for me than anything else. I'm not a foodie, I'm a control freak and I want what I want when I want it – actually…that sounds more like a spoiled brat to me ;-)… If you are looking for a way to reset the way you eat without too much of a commitment, this is definitely a great way to go. My stats below ….. oh and sorry no pics 😉
Weight – 142 (-2 lbs)
Chest – 33
Mid waist – 26.5 (-.5)
Low Waist – 30.5 (-.5)
Hips – 37
Thighs – 22
Calves – 15
Bicep – 11.5
Thanks for following along 😉