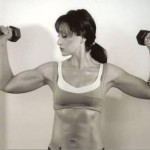 Here we go….. Jan 1 2014 HAPPY NEW YEAR!!! So – this is me on 11/11/11 – 6 months before I turned 50. I needed something to motivate me to keep thing going in the winter and a professional photo shoot sure did the trick…. what will motivate you? 😉
Week 1 is all about planning and goal setting….. I think we can handle that right? Got your journal – ready to rock and roll – I know I am!! If you don't have a journal – click JAN 2014BT101_Fitness_Journal for blog for a free download of mine!
I have already written my goals so I'm going to share them know…
1. Don't worry – be happy… Each day I'm going to write down 5 positive in my things in my life to keep my mind focused on all the blessings in my life and stay off the pity potty 🙂
2. Read at least 5 pages a day of information to put a spark in my life – reading two books right now – The book of awakening which is written by Mark Nepo – "Having the Life you want by being present in the life you have" a daily reader for my mornings (thanks Jenny) and then Shake the world by James Marshall Reilly "It's not about finding a job, it's about creating a life"….. you get my drift right – if your an artist – find something about sharpening your skills, if your a parent – find something about enjoying your life with family…..
3. Exercise (3 to 5 times a week)- this my friends does NOT have to be a chore…. Find the time of day that works for you – find when you have the most energy and "PEN" yourself in! For me it's the morning:
– 6:15 AM – roll out of bed onto my floor and gently stretch for 5 minutes or so to work out the kinks.
– 6:30 AM – 30 minutes of either Yoga, cardio or strength training (This can be done 2 or 3 times a week depending on how your want to start)
– 7:00 AM – Each morning walk miss chula… this is pure bliss for me – fresh air, watching her frolic, and moving. I love starting my day like this….
– 7:30 AM – Get ready for work…..
The Nice thing about the AM workout is I don't have to think about it again all day long 😉
4. Planning and food preparation – This is a must! Food is going to get me 80% of the way to my goal. So (pick a day) for me Sunday before I go food shopping for the week works the best – and honestly I have to admit right here and now, I am not a foodie. I eat the same thing everyday, at the same time on the same days – it's just easier for me that way.
5. Take / Make time for me….. This we'll talk about more later in the Self Appreciation section – it is all about ME and YOU – don't let anyone tell you different 😉
So those are my goals – write 5 positive things daily, put material in my brain that will motivate me daily, exercise 3-5 times a week, plan my food weekly, and take / make time for me. Not a bad start, right? Did you notice that 3 out of my 5 goals have nothing to do with diet or exercise? Did you notice the name of my blog is Body Transformation 101: beyond diet and exercise?? There is a reason for that, which well talk about more from week to week – but for now – get busy and get your goals together 🙂
Oh and check back daily if you want to see how I'm doing – going to post in the comment section each day – xo