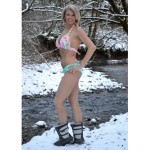 That's right – if you want a hot sexy beach body this summer – NOW – is the time to take action. Check my girl Jenelle a beautiful 43 years old woman, as well as a Wife, Mother of 3 and a Grandmother – can you say HAWT! This amazing women just went on a journey and won 1st place in the Turbulence Training Transformation Contest! Super proud of you J-Girl!!!! …. Ladies you are never too old to get in shape, I've done it and seen it done.
The Great news is if you start now, you won't be killing yourself this spring trying to get ready for the summer… Slow and steady still wins the race my friends and you will be happier and healthier doing it this way – promise 🙂
So as I've done over the last few years – starting January 1 – I'm going to walk you through one of my eight tips to you get your body, mind and spirit in check through a weekly blog.
To keep focused it's very important to have some kind of motivation or deadline – the whole "why" you want to get fit? Class reunion; be healthy for your kids, fit into your skinny jeans, a wedding, a vacation etc. For me this is do or die – I'm going to Hawaii at the end of May for 8 days and I'm gonna be as hot as a lava rock;-)
My motivation or my "why" is something I've been struggling with this past year. I've had to come to terms with some losses and deal with some big life changes and honest to god, I am tired…. This trip is just what I need to get myself back in the grove. No doubt the picture I'm going to take in my bikini is going to be a huge eye opener.
I always start by taking a before picture, my measurements, and weight. Sometimes my inches will go down before my weight – so for me it is a good check that I am going in the right direction. I also journal my food and exercise daily to hold myself accountable, which I will do in here. I have done this before so I know if I am consistent I WILL see results.
The next step is to set my intentions which are basically my goals. Setting intentions gets me focused and clear on what I want. Becoming aware of my intentions brings them to the front of my mind and once they come to the front of my mind, they will happen – this is called the law of attraction, and yes we will dive into this further.
I will also talk about how hormones and lack of sleep effect weight loss, the importance of self-appreciation, self-care, and putting yourself first – and yes, the importance of eating right, portion control and what type of exercise will get the fastest results. It's been way to long and I'm excited to get back into the swing of things.
I do hope you will join me – again…. Like everyone else out there I struggle, because life happens – but the key is to get back at it. If you have questions please give me a shout at mybt101@gmail.com.