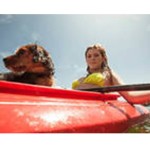 Wow – what a week! My body is soooooo tired, but my head is clear and I feel full of energy. Sleep has been awesome – geeze the world seems to be a little bit brighter when you take care of yourself. So here was the drill…
Monday – C25K – check!
Tuesday – Spinning 6 am and Yoga at noon check and check!
Wednesday – 2.5 mile walk run with the wookie 😉
Thursday – 2 mile walk with Chula then a 45 min Kayak ride before I went to work (took a half day)
Friday – Spinning 6 am – I LOVE the guy who does spinning on Friday he plays all the great old rock song and work his ride to the beat – you're done before you know it, and a 1 hour kayak ride – woo hoo!!! So much fun – oh and got myself a neon yellow life jacket.
Saturday – Wow – can you say hello sunshine!! Finally, it's been raining all week. Today – Chula walk, kayaking for sure. Mani and pedi – heaven!! and getting Miss Chula her own neon yellow life jacket. Ruff Ruff right Chula!!
Food was practically perfect except for a full bag of white rice with dinner 3 nights in a row (2 cups) bad, bad, bad – but so good – a large 1/2 sherbet and coffee Ice cream on Wed, a small maple walnut yogurt on a sugar cone Thursday – and I'm sorry to say, a cold stone small coffee ice cream with two Recess PB cups on Friday, oh and guess what another small Maple walnut was waiting for me when I got home – good grief- My absolute weakness in the summer. However, I am happy to say I have been alcohol free for 15 days! Oh and to be fair Chula probably ate 1/2 of the Wed and Thursday treats – you know a bite for me a bite for her or a lick for me and a lick for her – have you ever seen a dog lick an ice cream cone it's too funny –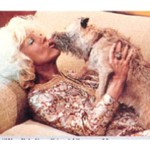 she eventually figured out if she bites it she gets more….. I know – I've completely spoil her and have lost my mind. But I do draw the line at licking my mouth – you know like on the Movie There's something about Mary 😉
And lastly her are my stats: Bummer no weight change….. which would make anyone want to give up after all the work I did… However, I took out my trusty tape measure and guess what!!! I'm down 6 inches!!!
Chest -.5
Waist -.5
LW -1.0
Hips -1.0
Thighs -1.0 each (so 2)
Calves -.25 each (so .5)
Arms -.25 each (so .5)
for a grand total of 6!!!
I have a 15 day push left for the month of June which will include 7 more spinning classes, 4-6 more runs, some valslide 20s (20 body squats, 20 forward, side, reverse and curtsy lunges with my hot pink valslides, each leg and then 20 more body squats – and hopefully weather permitting a kayak ride each night. Also I must say bye bye to the white rice and Ice Cream during the week – I know I can do it!
That's it for today – hope you are all planning and working your plan. You will be glad you did when it's time to get into the bikini – hubba hubba!! xoxo