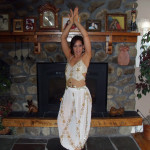 I was watching "videos with the best catch phrase" and Justin Timberlake's I'm bringing sexy back was one of them – and now it's stuck in my head…. How ironic, because honestly this is what I need to do, bring my sexy back, get a little sassy, put a little "VA" back in my "VOOM" 😉 …. I have to admit I am a LOT curvier than I have ever been in my life – but for some reason I not completely bothered by that. I think being a little curvy is sexy, even on me.
So what is sexy anyway? For me it's a feeling, a feeling of confidence, a feeling of being strong-minded, like I can do anything. Even when I looked my best, I didn't really feel sexy – it's not easy to own it – right ladies? Plus if you are comparing yourself to what the media is portraying as sexy – wait … ahhh ahhh ahh – Bull Sh** – god bless me…… ooo sorry …. let me move on – this could be a whole other blog if I let it. (oh – I did ….check out my thoughts on The Media and body image) I mean really how many of us can really look like that? Ok, well I did for about a minute when I had some profession Boudoir photos done (below) Nothing that a little photoshopping, lot of makeup, perfect lighting, and a fantastic photographer can't do to make a girl look her absolute best ;-). I highly recommend every woman do this for herself once in her life.
Also I started taking belly dancing lessons, which I love. Did you know that belly dancing started as a way for women to celebrate their bodies? Women use to dance for other women, not just for men. It definitely creates self-confidence and a sense of empowerment, plus it's beautiful to watch. It's also one of the few forms of dance that does not encourage woman to lose weight. The featured image up in the left hand corner is me a few years back in some authentic belly dance garb my sister brought home from the Middle East. Now those are some sexy threads….
Being sexy does not mean you need to look like a super-model – it's a frame of mind, a rite of passage for all women young and old. Now what do you need to do to bring your sexy back???